New energy-efficient manure drying for laying hen cages
10th May 2022
In the recent International Poultry & Pig Show 2022 in Japan, Big Dutchman takes another step forward in precision livestock farming with the introduction of AirPaddle.
As an upgrade accessory for the proven UniVent manure belt system for layers, AirPaddle creates the air movement necessary for manure drying in a very energy efficient manner. The system is compact and does not require any additional space as it is installed below the bottom wire grilles of cages, making it suitable to be retrofitted onto any existing UniVent belt system.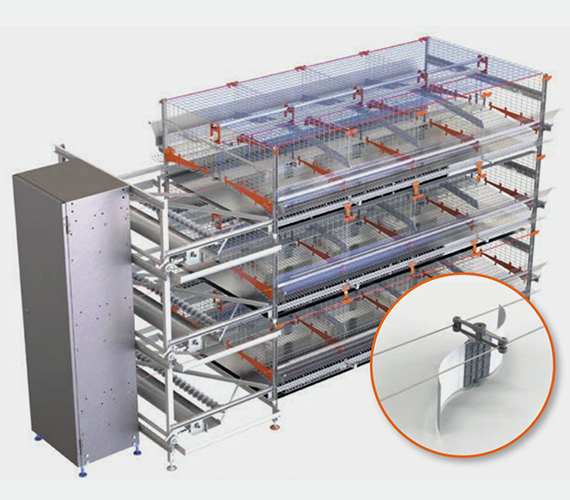 Sitting directly above the manure belt, the AirPaddle system work with two traction cables that rotate paddles made of flexible plastic. The 1.5 times oscillation per second along with the plastic strip's flexibility, create constant airflow along the entire width of the manure belt. This mechanical action draws air laterally from the aisle and trough area over the surface of the manure belt, ensuring quick and efficient drying.
This fan-less system is extremely energy efficient due to its simple mechanics, low weight and clever design. Most importantly, it results in significant reduction of ammonia emissions in the air, as it works right at the source of the manure production. Maintenance is also easy as the exposed parts of the systems is easily accessible for thorough cleaning after each batch.
See how this simple but ingenious system works:
---
Learn more about the product:
https://www.bigdutchman.asia/en/products/egg-production/starter-production