BaF Vietnam eyes leading spot with pork value chain expansion
1st August 2022
BaF is partly owned by Siba Holdings, one of the largest feed ingredient suppliers in Vietnam, which bought a 200/o stake in BaF in January 2022. This has given BaF confidence in building its pig production business.
"Being backed by a major feed ingredient supplier gives us the confidence to raise our investments in pig production," Loc Huynh, Swine Production Director told Asian Pork Magazine.
While many producers are currently troubled by the turbulence caused by Covid-19 and the Russia-Ukraine war, BaF has been hardly affected.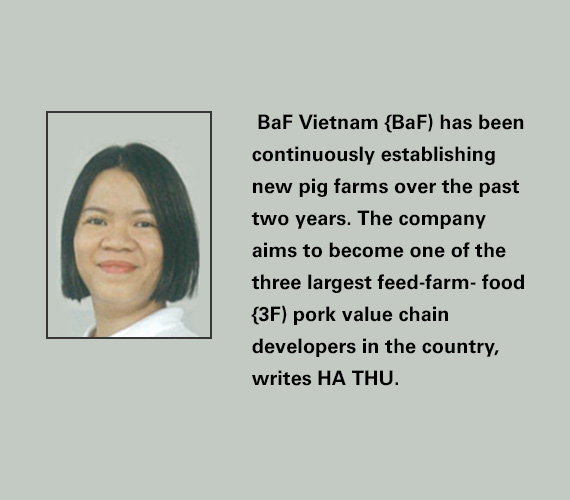 Expansion plans
In its development strategy for 2021-2026, BaF targets building 35-40 farms that will eventually house a 65,000-70,000 sow herd and produce 2.5 million finishing pigs.
Such expansion is considered risky at a time when the industry is up against many challenges such as rising production costs amid low market demand. BaF however, sees these challenges as opportunities to seize market share.
"We have many advantages to build a complete pork production value chain," said Mr Loc.
He revealed that BaF will build five more pig farms this year, and another eight next year. The company also plans to build a slaughterhouse and processing plant this year.
Driving forces
The company's expansion is motivated by its desire to produce more affordable pork for local consumers, remarked Mr Loc.
One of the reasons for the high prices, he added, is the involvement of middlemen. By having a complete value chain, BaF can cut this extra cost, allowing it to reduce and stabilize prices.
Upstream, controlling inputs by producing its own feed and breeding pigs can help BaF minimize the risk of supply shortages and reduce the overall cost.
"Building a value chain will help BaF avoid market price fluctuations. By owning the chain, we can produce the best quality pork with the most affordable and stable price," said Mr Loc.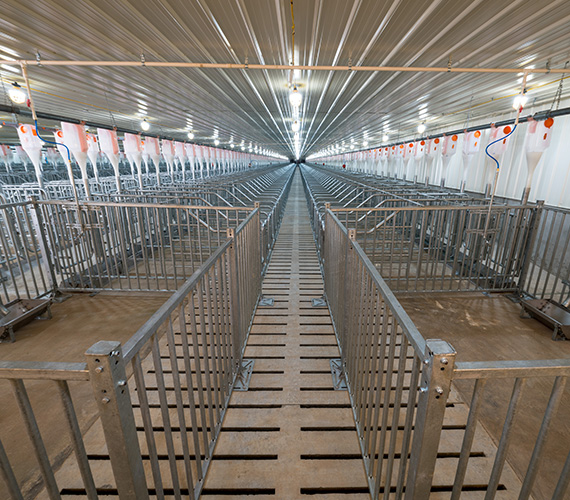 High-quality breeding pigs
The quality of the breeding pigs is the core advantage in BaF's business. "Good quality breeding pigs will result in good meat quality and productivity," said Mr Loc. For its genetics, BaF turned to Genesus.
"Genesus provide us technical support, which is important for a young company like BaF. We learn from the experiences and breeding techniques of one of the world's leading genetic producers," he said.
Carrying the Genesus brand, he added, gives BaF's products an advantage and proves their quality.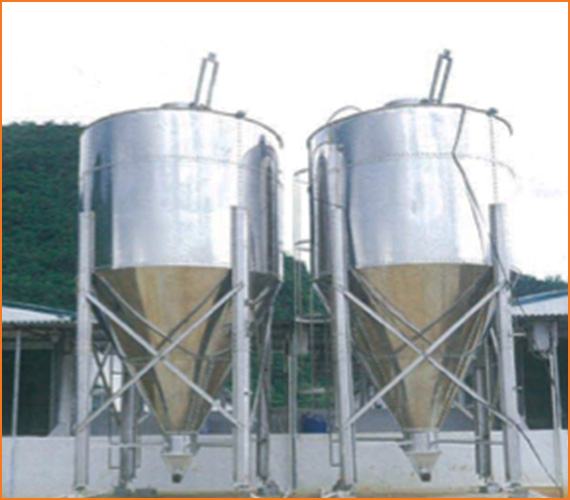 Modern farms
Another advantage boosting BaF's confidence is having a land bank, which allows it to invest steadily in its facilities. Unlike other producers, the company invested in infrastructure early.
"We own the land, not lease them. This provides us with a competitive advantage, and confidence to invest in farms," said Mr Loc.
BaF farms are equipped with the latest technologies such as Big Dutchman's centralized silos, modern ventilation systems, automatic feeders, and new pig pens.
With its highly automated farms that run with strict biosecurity protocols, BaF can minimize labor, reducing the risk of disease transmission via its workers.
The company also ensured that the right ventilation systems are in place on their farms to keep the animals comfortable.
"We use different ventilation systems for different weather conditions. For the farms located in central Vietnam with hot dry weather, our ventilation system uses evaporative cooling pads to keep the pens cool. For farms located in north Vietnam with hot and cold seasons, we have separate air conditioning systems to match weather conditions," explained Mr Loc.
BaF uses insulation boards to keep temperatures stable inside the sheds.
"All investments are meant to keep the pigs comfortable and reduce disease risks," said Mr Loc.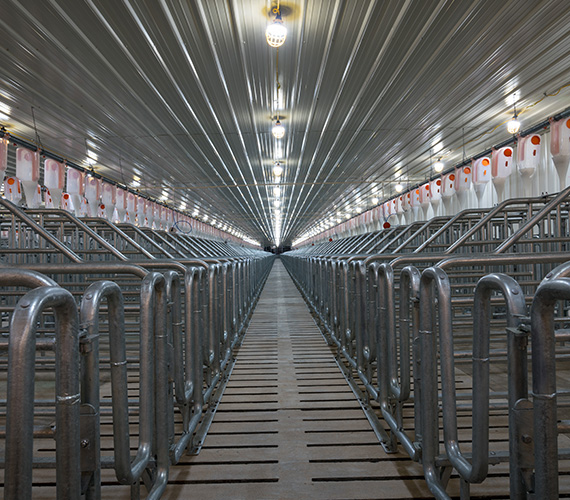 Strict biosecurity
All BaF farms implement strict biosecurity protocols to minimize disease risks.
"Having started in 2019, we are new hands in pig production, and we learned costly lessons in the early days. But those are important lessons in farm management and animal health control," said Mr Loc.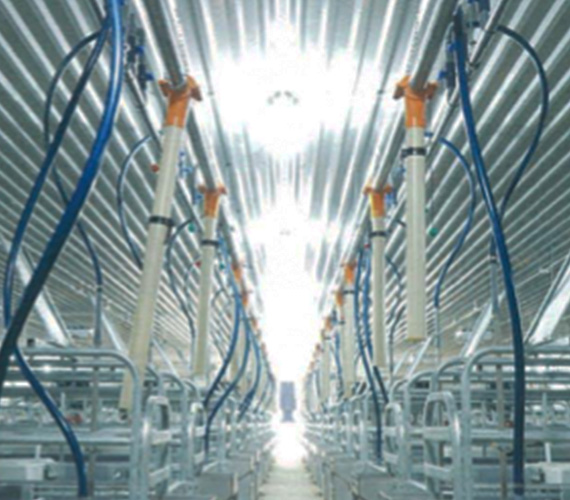 At BaF farms, contact with outsiders is minimized. "We use feed trucks to load the feeds to the centralized silo systems. From there, feed is transferred automatically to each barn. The entire feeding process does not require human contact, thus minimizing the risk of pathogen transmission to the animals," he explained.
All vehicles are washed and disinfected before entering and leaving the farms and feedmills.
With strict biosecurity, BaF keeps its pigs protected from disease, allowing it to minimize mortality rates.
Retailing pork
Soon after venturing into production, BaF opened the Siba Food meat shops to retail its branded fresh chilled and traceable pork directly to consumers.
"Currently, few producers in Vietnam provide fresh chilled meat directly to consumers. This is how we differentiate ourselves from other pork producers in the country," said Mr Loc.
It also helps BaF control the retail price of its products.
"We try not to push the prices too high compared to other pork products in the market. The main goal is to provide high quality, affordable meat to customers," he pointed out.
The company's slaughterhouse and processing plant, now under construction, is expected to begin operations in Q3 2022.
To optimize business efficiency and minimize the company's environmental footprint, BaF will build a facility that will process byproducts and waste products to produce meat and bone meal as feed ingredients.
"We are new in the market, but with our advantages and the right value chain approach, we are confident and will soon secure our position in the industry," said Mr Loc.