AirMaster EVO | Big Dutchman's Exceptional Performance and Energy Efficient Fan
6th July 2022
The newly launched AirMaster EVO is set to revolutionise the way Egg, Poultry and Pig houses are ventilated. Made specifically for the Asian market, the AirMaster EVO is Big Dutchman's next evolution in fans for tunnel ventilation environments.
Drawing from Big Dutchman's in-depth experience and expertise in ventilation dynamics, as well as building engineering, the AirMaster EVO provides a perfect balance of air moving capacity, energy efficiency and air flow ratio. This results in uniform ventilation with lower power consumption even in high pressure environments, delivering uninterrupted and precise climate control.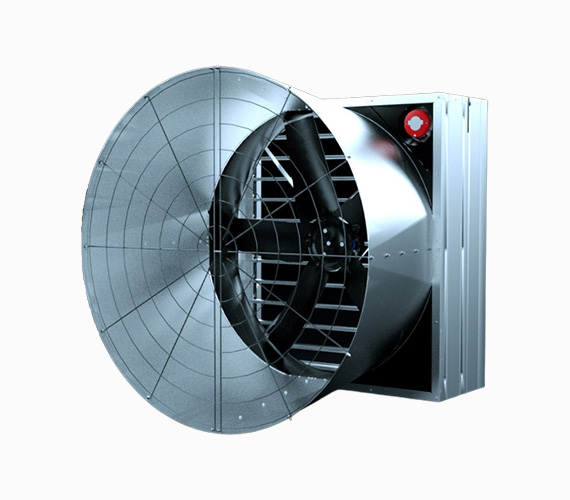 Evolved from the successful line of the V130/140 fan series, the next generation AirMaster EVO comes in a 3 or 6-blade configuration to meet specific ventilation needs. It is built tough with glass fibre reinforced blades for maximum operational durability. Diecasting of the V-belt pulley and blade hub as a single aluminium piece also means less maintenance and longer lasting performance.
All the technological and construction upgrades to the AirMaster EVO means it offers superior advantages compared to other fans of similar size and build, these include:
Up to 70%* Energy Savings
The efficient IE3 inverter motor makes all the difference when it comes to energy efficiency. Compared to traditional ON/OFF fans that draw more energy with every stop-start cycle, the AirMaster EVO features a variable speed inverter motor that can adjust the fans' speed according to ventilation requirements.
This significantly reduces energy consumption up to 70%* in most applications, by minimising wasted energy. In fact, the motor often only runs at a top capacity of 60% as it does not need to make up for lost energy.
Uniform, High-Pressure Performance
Built to work under pressure of up to 110pa*, the AirMaster EVO is engineered for pressure stability, performing efficiently even if in-house static pressure is high. A comprehensive test of the fan's performance stability has been conducted by the independent Bess Lab of the University of Illinois, USA.
Aside from the ability to deliver uniform airflow throughout the production house, the AirMaster EVO also ensures consistent ventilation for optimal animal comfort when connected to the ViperTouch Dynamic Multistep control system.
Robust, Proven Design
Evolved from the successful line of the AirMaster V130/140 series, the improved AirMaster EVO carries on the philosophy of simple yet durable construction. In fact, Big Dutchman has sold over 70,000* fans of the same construction all across Asia since 2015.
The high-quality galvanised steel structure with glass-fibre reinforced blades and pretensioned V-belt are all proven to perform year after year. Now with the upgrade in performance and energy efficiency, the AirMaster EVO takes efficient climate control to a whole new level.
Assured Return on Investment
As one of the most energy efficient fans in the market, the savings accrued from lower power consumption will pay for the use of this fan many times over its operational lifetime.
Studies show that a return on investment can be achieved within 2.5 years*, or even shorter depending on the power tariff in the country of installation. Combined with regular preventive maintenance, the AirMaster EVO will provide years of worry-free use.
The AirMaster EVO is currently available in all Asian markets for Egg, Poultry and Pig production houses. It is ideal for brand-new houses of even as a retrofit replacement for aging fans.
Learn more about AirMaster EVO: