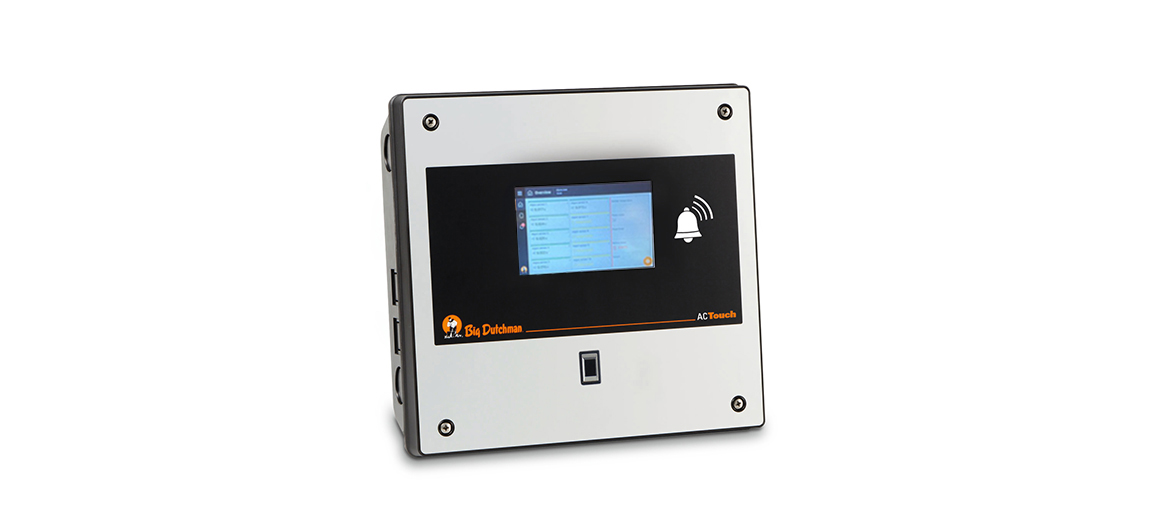 For the highest security standards
With the alarm device AC Touch, Big Dutchman introduces a new generation of alarm systems. Instead of a key, AC Touch is accessed by means of a fingerprint sensor. This ensures that changes to settings and acknowledged alarms can be tracked back to the responsible person with absolute certainty; a great advantage on farms with several employees.
Furthermore, the alarm device is easy to use thanks to a large colour display. All alarm inputs and functions are displayed clearly and can be easily adjusted. Another important feature is the "black box", which cannot be deleted and saves all alarms and activities.
Advantages
10 analogue or digital alarm inputs, including temperature alarm, fire alarm, motor failure
All inputs are fail-safe in case of wire breaks (as an option, also for short circuits)
10 relay outputs actively switch on emergency fans or MultiStep groups, dependent on temperature limits or alarm notifications
The temperature is monitored using temperature profiles which can be pre-configured or set up individually (broilers, layers)
Temperature monitoring registers both sudden temperature changes and temperatures below or above the absolute values with regard to the current outside temperature
Secure identification using a fingerprint sensor, able to cater to up to 20 users with different access rights
Progress curves of all alarms of the past 30 days can be displayed
Long-time storage that cannot be deleted for one year
Phase failure monitoring (optional) reports power failures
Backup battery including monitoring of the battery status
Automated test alarm
Less important alarms can be muted for the night
Integrated microphone records alarm messages